Embodied Visual Object Recognition
This ran from January 2009 to December 2012 and was funded by The Swedish Research Council (VR) .
The People
The principal investigator for this project is Per-Erik Forssén .
The project also employs the PhD students Marcus Wallenberg and Hannes Ovrén .
The Robot
The robot, Eddie the embodied, is shown in the image below.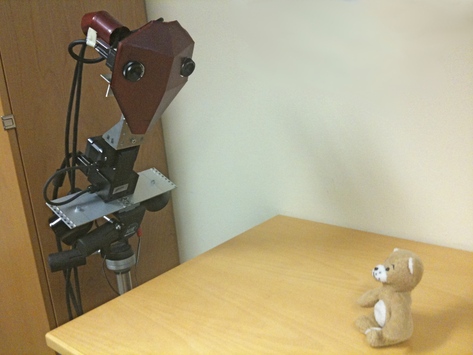 Follow this link to see an earlier version of Eddie in action. The movie shows Eddie attending to, and successfully recognising four objects, after they have been placed in front of him. The robot voice in the movie clip reports the name of the object, "teddy", "police car", "red car", and "matchbox", as well as a measure of uncertainty on object identity. Note that we are constantly improving the capabilities of Eddie, and the movie clip is thus slightly out of date.

The final (?) incarnation of Eddie can be seen in action in the supplemental video to the IROS17 paper Attentional Masking for Pre-trained Deep Networks.

On May 10, Swedish TV aired an interview where we presented Eddie. Click here to see it (in Swedish) .
Publications
Marcus Wallenberg, Per-Erik Forssén, A Research Platform for Embodied Visual Object Recognition
Technical Report, SSBA10, 2010 [ PDF ]
Anders Lind, High-speed View Matching using Region Descriptors , LiU Master Thesis, August 2010 [ PDF ]
Axel Landgren, A Robotic Camera Platform for Evaluation of Biomimetic Gaze Stabilization using Adaptive Cerebellar Feedback , LiU Master Thesis, September 2010 [ PDF ]
Marcus Wallenberg, Per-Erik Forssén, Embodied Object Recognition using Adaptive Target Observations, Cognitive Computation, Vol 2, No 4, December 2010 [ PDF ]
Marcus Wallenberg, Michael Felsberg, Per-Erik Forssén, Babette Dellen, Leaf Segmentation using the Kinect , Technical Report, SSBA11, 2011
Marcus Wallenberg, Michael Felsberg, Per-Erik Forssén, Babette Dellen, Channel Coding for Joint Colour and Depth Segmentation , DAGM 2011 [ PDF ]
Erik Ringaby, Per-Erik Forssén, Scan Rectification for Structured Light Sensors with Rolling Shuttters , ICCV 2011 [ PDF ]
David Sandberg, Per-Erik Forssén, Jens Ogniewski, Model Based Coding using Colour and Depth Cameras , DICTA 2011 [ PDF ] Best colour paper prize
Marcus Wallenberg, Per-Erik Forssén, Teaching Stereo Perception to YOUR Robot , BMVC 2012 [ PDF ]
Hannes Ovrén, Per-Erik Forssén, David Törnqvist, Why Would I Want a Gyroscope on my RGB-D Sensor? , WoRV 2013 [ PDF ]
Eric Gratorp, "Evaluation of online hardware video stabilization on a moving platform", LiU Master Thesis, October 2013
Page responsible: per-erik.forssen@liu.se
Last updated: Mon Nov 11 14:51:05 CET 2013
Senast uppdaterad: 2020-02-11