Object Pose Estimation Database
This database contains 16 objects, each sampled at 5 o angle increments along two rotational axes. All objects are available both with a black background, and with a cluttered background. Some of the objects are available in different lighting conditions (left, right, ambient). The montage below shows one view each for the objects.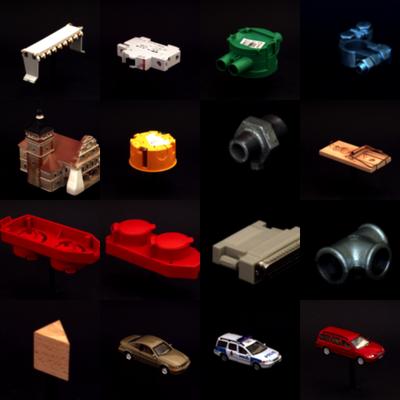 The image below shows a subset of the available views.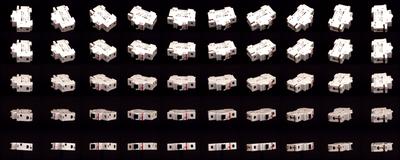 Take me to the datasets
Associated Publication
If you use this database in a publication, you should reference the paper:
F. Viksten, P.-E. Forssén, B. Johansson, and A. Moe. Comparison of Local Image Descriptors for Full 6 Degree-of-Freedom Pose Estimation . IEEE International Conference on Robotics and Automation , May 2009. [ BibTeX ].
Other Related Publications
If you use this dataset and want to have your publication listed here, please drop us a note at

F. Viksten and R. Söderberg and K. Nordberg and C. Perwass, Increasing Pose Estimation Performance using Multi-cue Integration ICRA 2006
P-E. Forssén and A. Moe, Autonomous Learning of Object Appearances using Colour Contour Frames CRV 2006
B. Johansson and A. Moe, Patch-Duplets for Object Recognition and Pose Estimation CRV 2005
R. Söderberg, K. Nordberg, G.H. Granlund, An Invariant and Compact Representation for Unrestricted Pose Estimation IbPRIA 2005
F. Viksten, A. Moe, Local Single-Patch Features for Pose Estimation Using the Log-Polar Transform IbPRIA 2005
G.H. Granlund, A. Moe, Unrestricted Recognition of 3-D Objects for Robotics Using Multi-Level Triplet Invariants AI Magazine 2004
Senast uppdaterad: 2020-12-10